How are we different from others?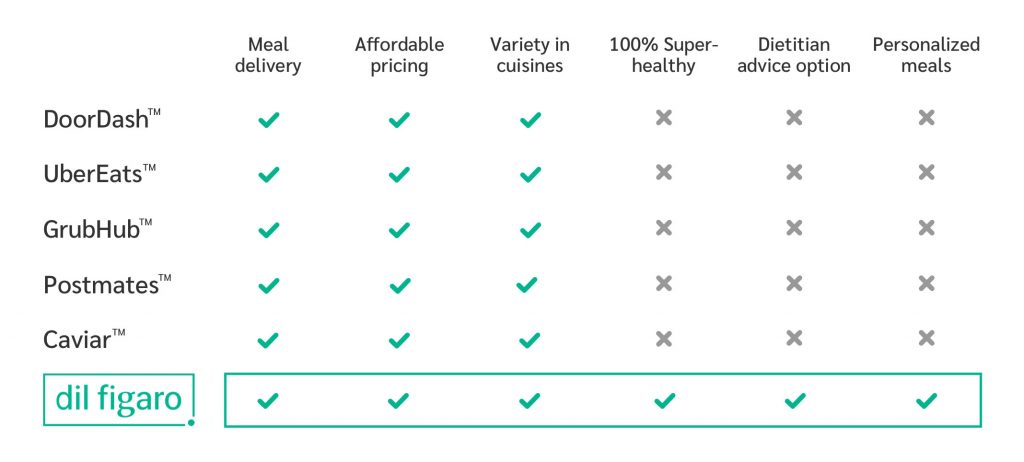 You can choose from several
price ranges
$$ (up to $20 per meal)
$$$ ($20 – $40 per meal)
$$$$ (over $40 per meal)
No mark-up on meals
No subscription
No tips
We donate a portion of our profits to promote healthy nutrition in children.
Snapshot

of restaurants
We take great care in selecting restaurants that are super-healthy, preferably organic, highly rated, known for their quality, and also allow necessary customizations.
What our clients say about dil figaro
Common questions
Are you looking for ways to eat healthy and delicious food? Our nutrition experts have answers to the most commonly asked questions.
How does the process work for me?
We match the answers from your questionnaire to dietitian-approved customized super healthy meals from local restaurants. Our team, under the guidance of dietitians who prepare these meal plans, collaborates with the chefs of top-rated restaurants in your area to have meals prepared that would match your health goals and taste preferences. We also take care of delivering them fresh to you every time.
We shall present you your personalized meal plan on a weekly basis. You will have several options per meal to choose from. You can also provide your own notes to the chefs to further customize the meals.
If you choose to eat one meal a week or five, there is no obligation.
What if I have several medical conditions and dietary restrictions?
Our dietitian panel – led by Associate Director at Yale School of Medicine – labels each and every meal, that we select from top-rated local restaurants,  for suitability based on a number of health goals, medical conditions, and dietary restrictions. That's how we make these meals health-fit for you!
If you prefer, we can arrange a consultation session with one of our dietitians to further address your nutritional needs.
How does the meal service work?
We typically provide a weekly meal plan on the weekend before the start of that week. The plan shows several meal choices from different restaurants.
By sharing the weekly meal plan 24-48 hours in advance of the start of the week, it allows you enough time to select your meals for the entire week at one time. We then arrange the daily delivery of your selected meal based on your preferred location and time slot.
How do you customize meals to fit my personalized nutrition needs?
First, we develop your personalized nutritional profile based on your questionnaire inputs for health goals, medical conditions, dietary restrictions, and taste preferences. Then, we match your profile with the suitable meals for you as selected by our dietitian panel. This is how we make meals health-fit and taste-matched for you!
You can also provide your notes to the chefs to further customize the meals.
In addition, a critical part of this process is to get periodic feedback from you – you can also provide that at any time you want to – so that we can continue to improve the meals and the service for you.
How do you secure my financial data?
We have partnered with a leading financial payment processing platform named Stripe. Stirpe deals with both Fortune 500 companies and start-ups.  All your financial data is directly inserted in Stripe's database thereby removing the leakage risk on our side.  You can learn more about stripe on their website: www.stripe.com.